By Alex Ayala
It's been just about a year since we left campus and returned home to begin life in quarantine; an effort to stop the spread of COVID-19, the infamous virus which has sent the world into an unprecedented disarray of social alienation, economic devastation, and collective suffering. One entire year later, and yet it feels as if we are no closer to a solution now then we were when this all began.
President Biden addressed the nation on March 11th, the first anniversary of the US shutdown, attempting to reassure the public of hope for better days ahead—even naming a timetable for a possible end to the pandemic. Biden stakes his belief in the American public to continue recieving vaccinations in record numbers: one million people vaccinated each day since he's entered office according to his speech. Of most interest to Americans and even the rest of the world, Biden claims that if these vaccination administration and production rates continue, that the nation should be expected to enjoy the 4th of July together this year: a picture of relative normalcy that Americans have been longing for since the early weeks of the pandemic.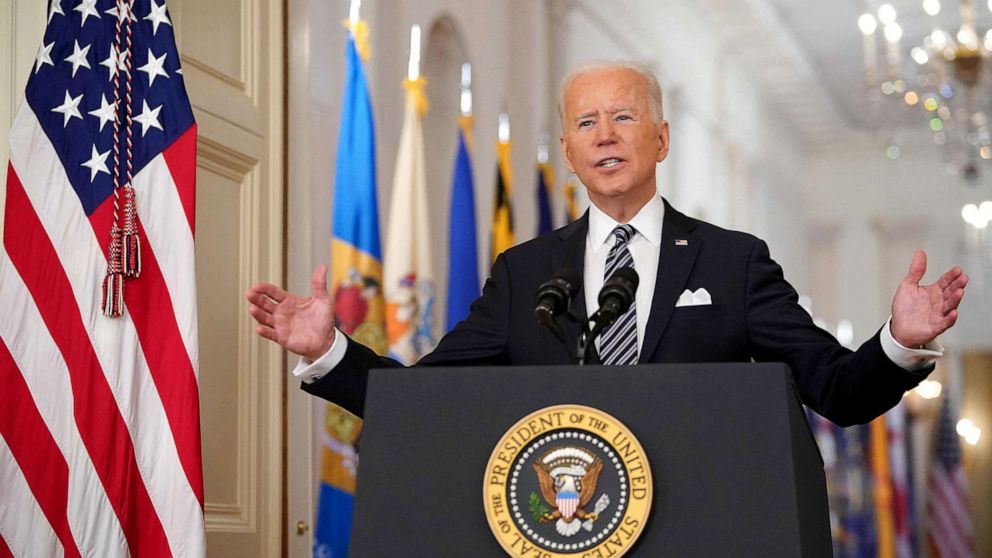 Credit: Mandel Ngan, Getty Images
Although the anticipation of a return to the days before the shutdown is certainly a tantilizing prospect, it isn't the first time government officials and expert scientists discussed a projection of the pandemic's end. Dr. Anthony Fauci, director of the U.S. National Institute of Allergy and Infectious Diseases, said in a press release with the World Health Organization in Decemeber 2020 that things may not even begin approaching where we were before the pandemic by 2022. Of course early in the shutdown, many had high hopes for a recovery in fall 2020, but after reaching each checkpoint there always seems to be no end in sight.
"There are too many moving targets" Fauci said during an interview in reponse to why he feels it's pointless to forecast a specific timetable. "We may need to be wearing masks in 2022 if the variants come in and they sort of thwart our vaccination efforts to get everything under control." This is a frightening possibility for the future of the virus, even with exceptional vaccination rates, new variants of the virus can undermine the efficacy of the shots, delaying herded immunity further. Additionally experts believe COVID will become something of a permanent seasonal threat, and with it there will need to be season vaccinations, not unlike influenza.
Truthfully, what life will look like after the pandemic is still uncertain. As the number of vaccinated Americans have increased significantly in the past month, and social distancing and mask wearing have proven effective methods of stopping the spread, the world has already attempted integrating the pre-COVID way of life into this distant era. Sporting events sell seats in alternate rows, and limit the capacity to which their stadiums can be filled. Retail jobs and security checkpoints have erected panes of glass or plastic to protect workers and customers alike. Most notably, restaurants have opted for outdoor seating to allow customers to eat where it's safe. Since these practices are a direct response to COVID, and the virus is seen to be something of a temporary issues, it's assumed that these methods are only temporary. Whether or not it's comfortable, experts speculate that, at the very least, these will be common practice for a least years into the forseeable future.
Credit: Lynne Sladky, AP Photo
Possibly the most drastic ramifications are in-store for the American economy. Countless local retail and food service businesses have been forced to close their doors due to financial hardship as a result of the national shutdown. State governments have made the push to prematurely reopen in order to assist those businesses by allowing them to serve customers again with limited social distancing protocols, like indoor seating and large crowds. Governor of Texas, Gregg Abbott, lifted the mask mandate and allowed business to operate at 100 percent occupancy recently, something he's recived major criticism for. Even still, the tendency of consumers to order in to eat, and shop online for hobbyist items remains. Major retail outlets likely have nothing to worry about in terms of closure, but this could be an era in which many local businesses may never find themselves back in the market. Even from major business, shopping habits may change, as Taco Bell is experimenting with fully automated drive through locations with convoyeur belts instead of associates. Expanding outside of food service, structures like these are expected to become commonplace across America for all kinds of goods.
In this potential post-pandemic era, the class divide in the quality of life between the rich and the poor maybe become more exaggerated than ever before. Yearly vaccines which employers may require of their workers won't always be paid for by an employer in the future. Having to pay a premium to enjoy live social gatherings like concerts or sports events will ensure that, for at least however long stadiums remain below capacity, only the wealthy will be in attendance. Job availibility could continue to fall, and beginner level positions could decrease as well, as people move online for shopping, and workers are replaced with automated alternatives. To compound all these worries, poorer individuals are already disproportionately affected by COVID-19, and it may remain that way after this year's vaccinations.
Certainly, the pandemic has become much more threatening than anyone could've possibly anticipated when it began last year. Many people assumed after previous H1N1 or Coronavirus scares, that COVID-19 would take care of itself given as successful and brief quarantine period. One year later, it must be discussed if the way of social distancing is the "new normal". Much like how the September 11th attacks permenantly ushered in an era of national security at nearly any cost—the Patriot Act allowing data collection and increased security nearly anywhere in the world— it seems that COVID will have some unforseen consequences in the future that will be incorperated into how "normal" is defined. Currently, it still feels as if the pandemic would never end, with mass availibility beginning May 1st; and when it does end, it feels as if what's on the horizon could be potentially intimidating aswell. However, it's certain that despite how long it may take, which direction it takes in and what happens next: this too shall pass, nonetheless.